A TRIP to the Ramadan bazaar is now made easier with the cashless transaction initiative by Smart Selangor Delivery Unit (SSDU).
SSDU introduced the mobile app Boost for customers and traders at bazaars in Selangor for shoppers to enjoy hassle-free e-wallet transactions.
SSDU managing director Dr Mohammad Fahmi Ngah said the pilot project for the initiative introduced at the Pandan Indah bazaar had received positive response.
"Out of the almost 100 traders, 50 are using the app to receive payments, while 400 people downloaded the app in Pandan Indah," he said.
Users can download the app from either Google Play Store or Apple App Store, transfer money to the e-wallet and use the scan and pay function to scan the QR code.
Dr Mohammad Fahmi said the introduction of the Boost application for the past two months was part of the Smart Selangor programme.
"After Ramadan bazaars, we will move into the Aidilfitri bazaars as well as into shopping malls.
"We also have plans to expand the usage to local council-type services such as renting of halls," he said after launching the Bazaar Ramadan Mampan in Pandan Indah.
He added that the app would be introduced to the masses via public engagements with local councils and through SSDU as well.
"It is all done in a safe, secure and reliable manner.
"Before we started, we filtered through several other e-wallet players and Boost came out as the top as it provide users with RM5 when they first download the app," he said.
Pandan Indah assemblyman Izham Hashim said apps like these could be a game changer in how businesses were conducted.
Also present at the event was Ampang Jaya Municipal Council president Abdul Hamid Hussain.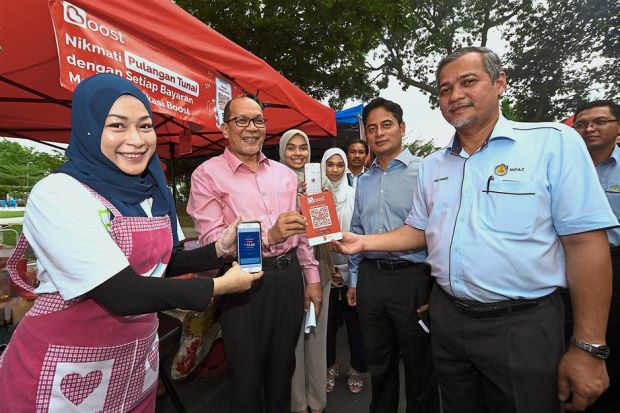 Izham (second from left) and Abdul Hamid (right) promoting the Boost e-wallet app at the Ramadan bazaar in Pandan Indah.
Source – The Star Online